Built in the 1930's the home for Brisbane's most enchanting new retail store has been lovingly brought to life by
Michelle Gillies
and her partner Jules over the past few months. The house and neighbouring boarding house are steeped in history with 3 generations of Jules family breathing new life into them over the years.
nook
is the end product of
Michelle
and Jules vision to bring some eco friendly, vintage and handmade uniqueness to Brisbane's West End - in fact they have really tapped into their own brand of contemporary cool style - warm and open with a distinctive vintage vibe.
Michelle
is of course famous for bringing "
Pedrosprout
" felt booties to the world. Her gorgeous designs are constantly in demand worldwide and so she has set up her sewing machine behind the counter so she can create away til her hearts delight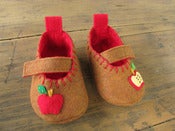 Not so tonight as the people tumbled in to celebrate
nook
'
s
official launch.
Michelle
was busy wrapping up the constant flow of purchases while Jules played the consummate host.
Seen proudly sporting new purchases in
nook's
signature eco friendly carry bags were
Thea
from
Thea and Sami
,
Eleni from Curly head Design
,
Em and Bel
from
EmBelish
,
Ali
from
Jellygnite
and
Little Jellygnite
,
Teneale
from
Wicked Child Designs
Sylve and Ellie
from
Red Seed Studio
,
Miss Ruby
and
Jade from Beckybean
Ooh what a lovely night it was to catch up!
During the week
nook
aquired some
Ruby
goodness with a collection of one of a kind
Vintage Fabric covered button rings
made from original buttons from the 50's, 60's and 70's. They look pretty fabbo nestled in with all the handmade creations from Brisbane and beyond.
There is so much to discover in this lil'
nook
so pop on down and do a little exploring of your own. In the meantime you can check out all the amazing eco, vintage and handmade designers at the
nook
blogspot
here
Happy
nooking
.... once you've discovered it you'll be entranced forever.
xh